Laminate Flooring in Twin Falls, ID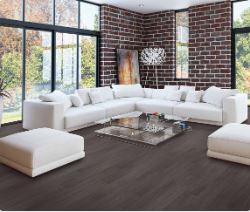 Get the beautiful flooring you want with the durability you need when you choose laminate flooring from Beams Flooring America. Because laminate is a manufactured product, it is available in a nearly infinite number of style and color options to match any interior décor. Our showroom offers a great selection of laminate wood flooring as well as laminate that simulates the look of tile and stone.
With all these style options to choose from, it can be hard to decide on the best fit for your home. When you need help deciding on the right laminate choice, visit our shop; our team is always happy to discuss your design goals and help you find the right solutions.
Resilient Flooring
Your home is a busy place with lots of foot traffic. All this walking puts stress on your flooring and leads to wear and tear. However, with laminate, this is less of an issue. Engineered with quality in mind, laminate flooring holds up to daily use and is perfect for your busy household. The outer layer on the floor's surface adds a protective coat that helps maintain the look of the flooring while preventing fading.
This coating also protects the floor from moisture and makes cleaning up messes a breeze. Come into our showroom to discover all the benefits of laminate flooring and see why this is the right choice for your busy home.
Laminate Wood Flooring
When you want to get the traditional look of wood in any room of your home but don't want to pay the high prices, we have the solution with our laminate flooring in Twin Falls, ID. Wood-look laminate is the perfect alternative to hardwood and engineered wood flooring since it gives you the warm natural look you want at a more affordable price point.
From oak to maple and everything in between, there is a laminate flooring option to match your vision. Come into our showroom to see it for yourself and let our experienced staff help you find the right flooring solution for your home.
Professionally Installed
One of the significant advantages provided by laminate is its ease of installation. It is designed to be quickly put together and be shaped to fit in any space. And, when you purchase the flooring from us, we make installation even easier.
Our professional installation team is experienced with installing laminate and has the tools to ensure your floors fit correctly in your rooms. With our installation services, you are guaranteed that your new laminate flooring looks fantastic and that it will last for years to come. To learn more about why using our installation services is so important, reach out to us, we are always happy to answer your questions.
Contact us when you are looking for laminate surfaces for your home's floors. We proudly serve Twin Falls, ID, and the surrounding areas.