Beautiful and Resilient Vinyl Flooring in Twin Falls, ID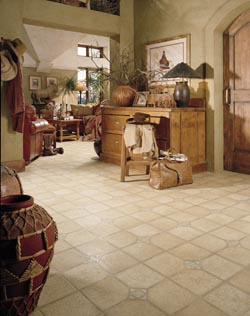 Elevate the look, feel, and value of your property at Beams Flooring America. We are your source for vinyl flooring in Twin Falls, ID. When you visit our showroom, you will discover how simple it is to begin your interior remodeling project. With our vast selection, customer-oriented approach to service, and professional installation, attaining a new floor is simple and stress-free. Count on us for all of your flooring needs.
At our flooring showroom, we create a shopping experience unlike any other. It all begins with our personalized approach to service. We take the time to learn about your project goals, and then help you find the vinyl tile flooring that will meet your needs. Whether you are re-flooring a single room or your entire home, we're here for you.
The Advantages of Vinyl Flooring
Vinyl is a composite material that makes an ideal flooring surface. First and foremost, this flooring is durable. The construction of vinyl sheet flooring, including tile and plank, makes it highly resistant against scuffs, scrapes, impacts, and bumps. As such, it is an ideal flooring type to put in high-traffic areas, like the living room, kitchen, and bathroom.
Everyday durability means standing up to virtually anything the day may throw at you. Vinyl flooring follows this pattern by also being highly resistant to water. The surface of this material is non-porous, meaning that water and most liquids have a hard time settling into vinyl's surface. As such, this also makes cleaning your flooring easy. Simply wipe away spills and get on with your day. You may also use an approved detergent and a cloth or mop to keep your investment looking good as new.
The strength and resiliency of vinyl flooring are matched only by its aesthetic appeal. Thanks to advances in manufacturing, options like vinyl plank flooring and tile are available in the appearance of other materials, like ceramic and hardwood flooring. Now, you may enjoy the natural beauty of wood in the kitchen and bathroom.
Of course, our vinyl floors are available in different colors, patterns, and styles. We've teamed up with the leading manufacturers and brands to provide an extensive selection of products. Whether your interior design goals aim for Old Word elegance or contemporary chic, there is something special to find at our showroom.
Professional Flooring Installation Available
Visit our flooring showroom and turn those remodeling ideas into reality: we are with you at every step. Our knowledgeable staff will help you find the right flooring for your project. When you're ready to make a change, let us handle the finishing touches.
We have professional installers available to conduct your vinyl flooring installation. Our expert installers will remove your old flooring and install your new selection, all according to your schedule. As a result, you will attain a picture-perfect interior that will last.